JONES DesLauriers Blevins provides clients with our resources, time and energy to help them with their People Strategy in order to become a Best in Class Company. We take employees from being an expense to creating an inspiring culture and increasing the overall value of their organization.
| | |
| --- | --- |
| Traditional Brokers | Our Consultative Approach |
| | |
With a holistic approach to your business, JONES DesLauriers Blevins is an experienced consultative benefits advisor that is concerned with the organization first.
A traditional consultant makes the transaction about the insurance carrier, price, or coverage.
Our goal is to help you strive to become a Best In Class Company™
We provide solutions by offering a no obligation, complimentary 360-degree Risk Assessment to our prospective clients.
Dedicated consultants assist current and prospective clients implement key People Risk prevention strategies
Process for 360-degree Coverage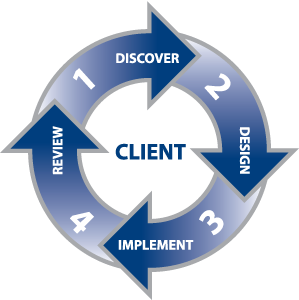 As Professional Risk Consultants, we believe in a very strategic and purposeful approach in the development and implementation of your risk management and insurance program. With that in mind we utilize the four step process shown here to reduce your total cost of risk through the design and implementation of a customized plan as well as help your organization look more attractive to the insurance marketplace.